HARD COSTS IN CONSTRUCTION- ALL YOU NEED TO KNOW
Cost is of different types and categorization, and every industry has a different name given to a particular cost. Although some cost more or less remains the same and it is generally considered to be of the same nature within all sectors and industries. However, in real estate, when we talk about construction companies or developers, there is a specific name given to costs, which is a hard cost and soft cost.
Hard Cost is those kinds of cost, which is directly related to the construction of a project in the real estate industry. Cost like raw material, direct labor, which is resulting in the construction of a building and is increasing the percentage of completion of a project comes under hard cost.
Hard costs in construction cost estimation are the costs of physical construction elements like foundations, superstructure, interior finishes, laborers, equipment, etc. They are the tangible costs in a construction project that are relatively easy to estimate.
CLICK BELOW TO READ COMPLETE DETAILS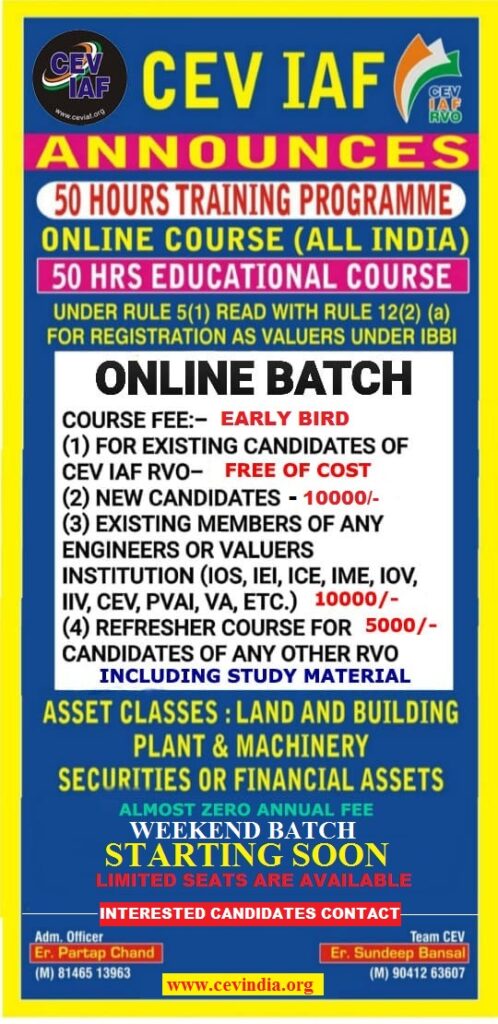 FOR MANY MORE  UPDATES AVAILABLE CLICK BELOW 
CLICK THE BELOW LINK TO READ THE COMPLETE CONTENTS
SOME CONTENTS OF THIS WEBSITE ARE FOR GOLD SUBSCRIBERS ONLY.
Join us as a GOLD SUBSCRIBER and get access to read important books.
KIND ATTENTION
We are going to close all what's groups of CEV soon due to difficulties in posting information or message in more than 5 groups of CEV at a time.
All future posts of empanelment notices & professional importance will be shared on
1. https://t.me/+dbHNkNO22xsyYTY1
2. www.valuerworld.com
3. The Twitter handle of CEV India
https://twitter.com/cevindia?t=XbqlvnwUVz1G3uPgs749ww&s=09
after closing the groups.
All members of these groups are requested to register themselves at the following link immediately for Getting all related timely updates…